"I love Pajama Day best!" "Thanks for bringing me into this beautiful world, mom and dad!" "Are you ready for a trip? Let's go!" Listen to how lively the students are! Are you curious about what students at SUIS Qingpu have been doing? In order to bring three month's of online learning to a successful end, and to provide more platforms for children to show themselves, our English teachers carefully planned a final evaluation activity!
The evaluation activity was designed to assess the comprehensive development of students' core literacy, combining students' life experiences with their social lives. By creating real situations and varied evaluation methods through multiple perspectives, the activity allowed students to both use the knowledge they learned to test their strengths and weaknesses and also to experience their progress and success in the process of solving problems. At the same time, the activity helped teachers to better understand students' current comprehensive learning progress, providing reference points and evidence in order to inform future teaching and learning strategies. Under the guidance of the subject team leader, English teachers also integrated 'project-based learning' into the evaluation activity. They used strategic questions to drive tasks, reflected on students' comprehensive literacy through practical activities, evaluated students' language levels and understanding through their ability to apply knowledge, and developed students' creative thinking ability in order to further cultivate students' core literacy.
Since the start of the preparation for the final-term evaluation activity on May 12, our teachers worked collaboratively to study and discuss all details for the activity, making frequent adjustments and refinements to the plan outlined in the activity's initial draft. After nearly a month of polishing, the final plan for the whole activity was finally confirmed, and included introduction videos, project task sheets, and evaluation sheets.
Now, let's appreciate the wonderful works the students of each grade created for their final activities.
G1:Let's go on a trip
During the pandemic, Grade 1 students had to stay at home instead of playing outside. In order to fulfill students' dreams of travelling around the world, our teachers thoughtfully planned a special 'trip.' In the activity, children turned into little travelers and went out to explore. They learned a lot of knowledge on their trip, and tried to pack their 'luggage' by listening to advice from their mothers. They also successfully 'recognized' the tour guide at the airport, took photos of the scenery along the way, and introduced the scenery to others. At last, they wrote postcards for their friends, sharing about their wonderful journey. During this 'expedition,' the students not only exercised their English listening, speaking, reading, and writing skills, but also accumulated rich experiences for their next real trip. The children were happy and proud to say: "Finally, I can travel abroad and speak English!"
G2:SUIS Little Journalist 
We have studied and worked from home for more than three months because of the pandemic. What has happened to our lives during this period of time? Under the guidance of their teachers, Grade 2 students turned into little reporters, first collecting and organizing information, and then reporting about the feelings experienced during the pandemic from the perspectives of their family and themselves. The four sub-tasks in this end-of-term activity were well-structured and interconnected. The students practiced their listening and reading skills through the reading of articles and watching videos. They also practiced their writing and speaking skills through interviewing others and reporting on the information gathered. In addition to demonstrating their knowledge and learning abilities, this activity gave the students a more realistic experience of journalism, a deeper understanding of their families, and a more comprehensive understanding of the pandemic.
G3:What makes me,me?
Ten years old! This is the first milestone in life, the beginning of youth, and the beginning of dreams!

Through the recalling of 'unforgettable times with parents' and 'those beautiful memories with friends', Grade 3 students realized their unique growth experiences and the wonderful people and things around them. At the same time, they exercised and improved their listening, speaking, reading and writing abilities through watching videos, reading articles, writing letters, and delivering speeches. After completing this evaluation activity, students learned to be grateful and to share with others, and were courageous enough to express their gratitude to their parents and peers.
G4:A day during the lockdown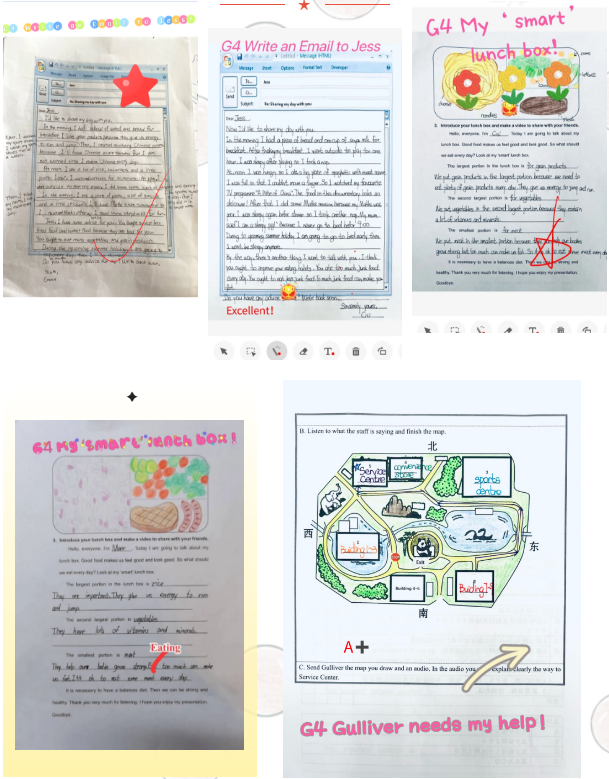 How can we spend a day in a healthy manner during the pandemic? Let's listen to Grade 4 students' ideas! In the morning, they helped a foreign friend, Gulliver, find the most suitable route to get a nucleic acid test. At noontime, they made a healthy lunch for family members and shared health ideas with friends. In the evening, they wrote a letter back to Jess to share about their day and give suggestions for how to be one's 'better self.' In this activity, teachers integrated the four basic skills of listening, speaking, reading, and writing, as well as the key language points learned this semester, into various tasks so that students could apply their English skills in real life situations.
G5:Farewell to primary school life
With the arrival of the graduation season, Grade 5 students began to cherish and miss their time spent at SUIS Qingpu more and more. Our students have recalled so many memorable moments, unforgettable places, and rich and beneficial activities while at SUIS Qingpu. In this end-of-term activity, Grade 5 students expressed their nostalgia for their primary school life using the amazing language skills they have learned. In each task, they skillfully applied the appropriate terms and structures they have learned by demonstrating various 'soft skills' in the process of sharing and presenting special memories through colourful tabloids and graduation mini-books. After watching their creative and warm videos, we could tell how wonderful their time spent at SUIS Qingpu was. Through the pre-organization, mid-term preparation and final presentations, the students reached a most successful conclusion to their primary school lives through their unique and rich memories.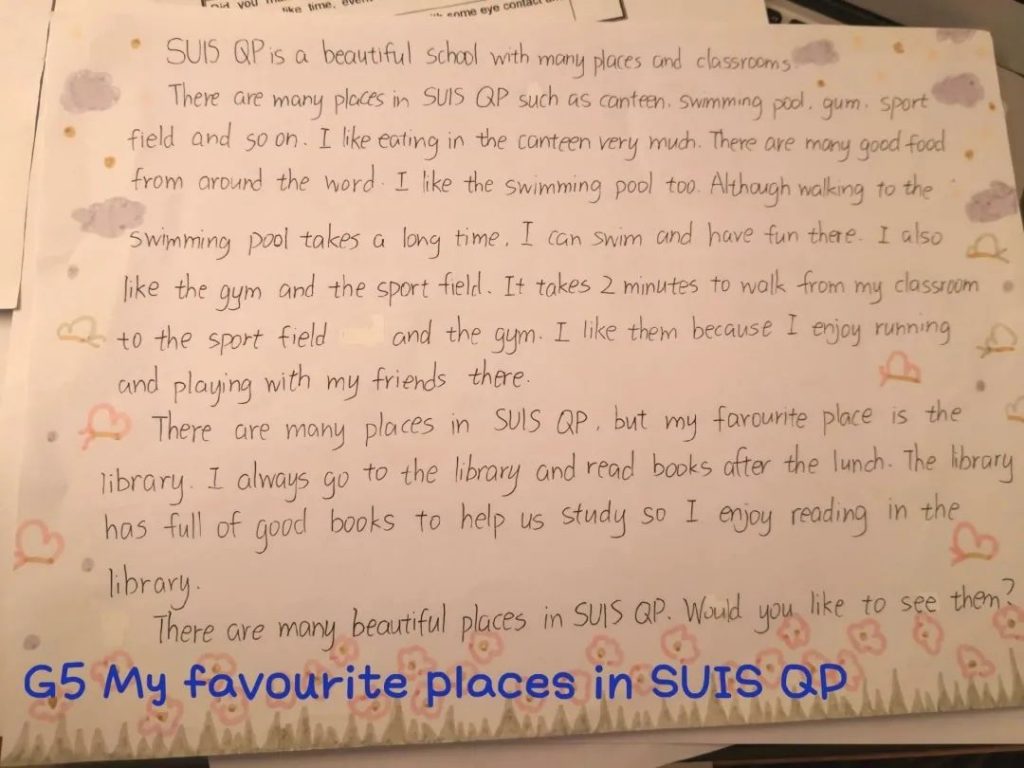 The world is big, but happiness is small. Although the sudden pandemic interrupted our original routines and rhythms, it also brought us different experiences. Optimistic and positive students brought us fantastic works in this experiential and exploratory activity. After reaping the fruits of their labour, they are now ready to make way for a happy summer vacation. We hope these diligent and thoughtful students experience a wonderful, safe and relaxing vacation!