In order to protect children's physical and mental health and at the same time create a positive and engaging learning atmosphere throughout the two months of online learning, tutor groups at SUIS Qingpu joined hands to create a diverse range of platforms for students. These platforms enabled students to freely express their feelings and receive attention for their individual developmental needs; the platforms also created channels for providing more care for individual students.
Spiritual Tutor, Warming the Heart
Teachers were invited to join the alliance for promoting student well-being through a specially-established "Cloud Well-being Tutors Group". On March 25, our Primary School conducted a psychological training session entitled, "Spiritual Tutor, Warming the Heart" and provided families with a "Family Psychological Self-help Manual under the Pandemic" guide. Throughout the training, tutors learned how to: become students' chat partners; create a good learning and living environment between home and school; show care towards children who were isolated or at the hospital; pay attention to children with special family circumstances; recognize negative emotions in students; and help them in a timely manner.
Tutor Workshop, Sharing Ideas
In an effort to better promote communication and learning among tutors, the school's moral education director, Ms. Song, organized a tutor workshop and sharing session which allowed tutors to exchange educational experiences, share interesting stories, and learn some effective practices from each other in a relaxed and pleasant atmosphere. The tutors also benefitted from wonderful speeches given by three tutor representatives.
Ms. Zhao from Grade 1 shared how she worked with some students. 'Panda Su Yi's Kung Fu Journey' (the theme of the tutor's activity), 'Panda's Growth Notes' (tutor management), 'Online Class Secrets' (online communication) and 'Panda's Healing Shop' (confusion and problems) were introduced. Ms. Zhao was able to help these lively and active "national treasures" become more obedient through ingenious methods and strategies, such as "valuing active sharing from all children" and "the amazing power of the camera." During the period of online learning, customized "star cards" recorded each student's unique growth.
Ms. Yang from Grade 2 delivered a session with the theme of "Strict and Moderate, Love but not Spoiling." Her sharing provided practical and effective interaction strategies for other teachers, and included three parts: 1) 'The many difficulties of online learning – Listen to the children'; 2) 'The many methods of interacting online – Do what children love'; and 3) 'The many stories of home-school communication – Talk with parents about warm moments'. The special activities such as the "2E Online Concert" and an online birthday party showed the loving and warm ways in which Ms. Yang communicates with her students. Because of this, Ms. Yang has also gained the affirmation and support from the parents.
Ms. Gu from Grade 5 provided a speech entitled, "Being sincere, attentive, and careful – Building a bridge for good communication between home and school." Her speech consisted of five parts: 1) 'Choosing the right time to communicate'; 2) 'Choosing the right way to communicate'; 3) 'Teaching with heart earns trust'; 4) 'Preparing carefully and communicating sincerely'; and 5) 'Careful observation and timely feedback'. Strategies such as 'don't frequently bother parents with tiny things, but work together on serious matters,' 'praise and criticize skillfully,' and 'set a good example for children' left a deep impression on everyone, and the special team activities she had organized gave tutors a lot of inspiration going forward.
Reflection on Tutoring Work
Comments from Ms. Xie:
Every time I had a conversation with the children, I was walking into different inner worlds; from the periphery to the center, from unfamiliar to familiar, from simple to rich. With the children talking and the teacher listening, the distance between the teacher and students slowly closed.
"Ms. Xie, after I talked with you yesterday, I was happy all day. I wanted to continue chatting with you. When can we make another appointment?"
"Ms. Xie, I will try my best to control my temper in the future and will take a deep breath when I get angry."
"Ms. Xie, we agreed to set a small goal. I will try not to make my father angry, and I will let you know the results of my efforts."
Every child is a small tree that is slowly maturing and will certainly experience wind and rain on the road to growth, while the tutor acts as a fixed and sturdy pole. When the small sapling begins to tilt, the tutor will support them at their side.
Comments from Ms. Vicky:
Once a month, Ms. Vicky made appointments with students and parents online to chat about the status of home learning, and she offered tailored suggestions for improving online learning so that educational synergy can be achieved.
Comments from Ms. Shen:
Two to three times every week, at 20:00, Ms. Shen set a 'cloud chat room' for students who had completed all their homework. They could enter the classroom, chat with their tutor and classmates about their mood, make small chat groups, have private talks, and remind each other to go to bed early and wake up on time. WeChat was used to communicate with parents about the status of their child's home learning, to offer advice, and to guide parents in improving parent-child relationships. ClassIn's 'friend mode' was used to enable safe interactions with students, allowing tutors to become their close 'sister' in order to help them solve problems and difficulties with their learning at any time, and to also give guidance for their lives.
Comments from Ms. Miao:
Ms. Miao wrote a letter to parents every month to create multi-dimensional communication between home and school. Ideas from parents, students, teachers, and the school were communicated in the letters and shared with parents in order to give parents and students valuable reassurance.
Comments from Ms. Zhao:
Through regular online interaction in the form of "Being Best Friends – Clearing up Confusions," Ms. Zhao patiently answered students' various questions and communicated with parents in a timely manner to guarantee that home learning continued smoothly.
Comments from Mr. Pan:
Teachers can enhance communication before and after class, for example, by sharing anecdotes about daily life, or about each other's cute pets. Teachers can make daily assignments more interesting, establish discussion groups to enhance communication and cooperation among students, and improve teaching efficiency.
LRC Volunteering Tutors – Focusing on Differentiation 
During the period of online learning, the Learning Support Center (LSC) launched an online differentiated tutoring project to provide targeted tutoring and help for students with learning difficulties. Through personalized class placements and small class teaching, students received guidance by subject and grade.
The differentiated tutoring covered all grades, after 2 weeks of implementation in Grade 3. In order to ensure that this online project went smoothly, LSC coordinator Ms. Yu convened all grade and subject leaders and formed an online course preparation group composed of 24 teachers responsible for the quality assurance of teaching and communication with parents. At present, the primary school has set up 17 differentiated classes, with eight Chinese teachers and four international teachers acting as the first batch of volunteer tutors to deliver online differentiated tutoring courses.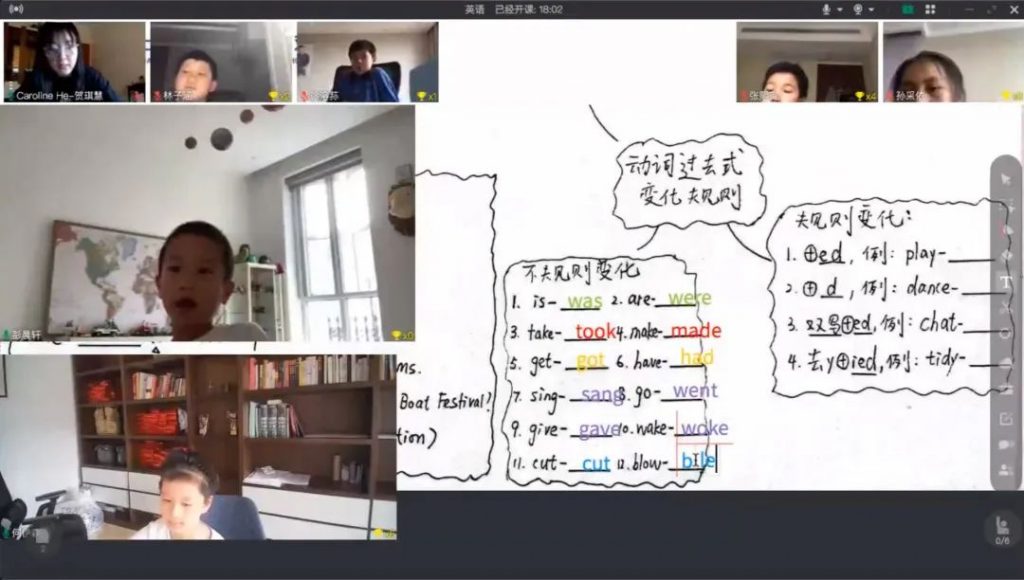 Although the pandemic has widened the distance between teachers and students, it cannot cut off the deep relationships that have formed between teachers and students. Our homeroom teachers and tutors warmly care for our students, and this care will extend beyond the period of online learning.