In Semester 2 Grade 5 students 'entered the middle school' to study, to satisfy their curiosity about middle school study life, and to better adapt to and plan for their middle school study life, all through middle school lessons offered through online experience activities. For Grade 5 students, it was a "think tank" of fun.
 Geography Class
In a geography lesson, under the leadership of Ms. Wang, students built a colourful geographical world from charts, texts, and videos. The geographical world includes not only topography, climate and rivers, but also human architecture and regional culture. In the summary sharing, the students actively answered questions, showing their rich knowledge of geographical things, curiosity, and love.
In the activity of globe curvature and longitude/latitude, students drew special lines on globes using foam balls and fruits prepared before class. After the production, students actively shared their production process on stage and displayed their works with confidence.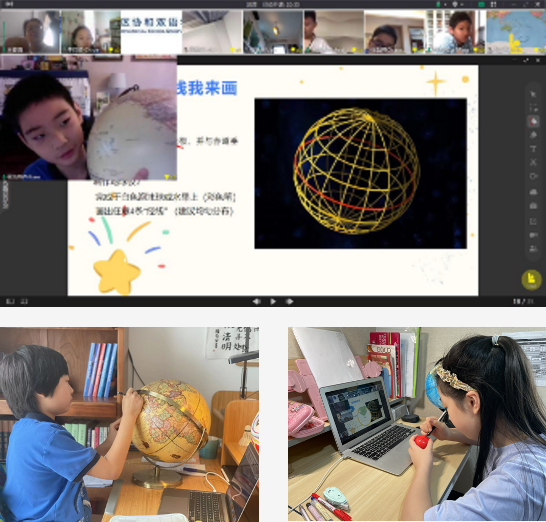 The geographical data presented in the film and television series "Ship in the Gulf of Aden" gave students a blank space for thinking. We are expecting that students will find answers to many interesting questions after entering geography studies in our middle school.
DESIGN&TECHNOLOGY CLASS
In the Design & Technology (D&T) class, students were introduced to the topics covered by this fascinating course. D&T teacher Mr. Nicolaas exposed students to several interesting project works. The students also engaged with a small project – a paper structure investigation. They used basic knowledge of structural engineering to design a paper bridge using a piece of A4 paper, and obtained design inspirations from daily articles. The students enthusiastically competed with each other!
SCIENCE CLASS
In a science lesson, Mr. Wang let students know about the magical particle model and the particle theory through video playing and interesting first-hand experiments. Students thought about the floating and sinking demonstration involving eggs, and, combined with the story of Archimedes' gold crown, realized the close connection between knowledge and life.
CHEMISTRY CLASS
In the chemistry lesson, Ms. Ma introduced students to acid and base indicators that are commonly used in the laboratory, and asked the students, "Could we use materials around us to make acid and base indicators? Which items would be the most suitable?"
The students began to discuss these questions, and decided to use flowers, fruits, and vegetables with their own colours. After choosing the materials, the students actively prepared their testing solutions. After using the selected items to make their testing solutions, they dropped small amounts into different acid and alkali solutions to observe any changes, drew conclusions, and displayed their best acid-base indicator.
COMPUTER SCIENCE
During a computer science lesson, students learned from Mr. Sushil that computer skills are the basic skills of students in the 21st century; they also learned about the learning content in the computer science course and about related careers in this discipline. The students also learned how to do Java programming! The boring letter symbols helped to create wonderful pictures through computer programming. The students actively interacted with the teacher in the online platform chat box.
These curriculum experiences led Grade 5 students to approach the learning of middle school subjects; not only did the lessons enhance exchanges and interactions amongst schoolmates, but also inspired the students' interest in learning. The career planning elements of these experiences inspired students to establish their own career aspirations and better plan for their futures.
I would like to thank the school and teachers for elaborately preparing our online experience courses during the pandemic. New subjects, rich curriculum content, interesting scientific experiments, and activities prepared by professional and interesting teachers all made me feel, fresh, and excited. I can't wait to go back to the campus and start my new middle school life.
At Shanghai United International School Qingpu Campus, we had many activities. When we were about to graduate from primary school and enter middle school, the school provided us with a 'middle school experience' classes.

The first class was a geography class. Ms. Wang taught introduced some topics to us, and led us to do some experiments. For example, Ms. Wang asked us to mark the axis of the earth and told us how to think like geographers. It was very interesting.

The second class was computer science. Mr. Sushil and Miss Marina taught us how to edit documents. We typed the code into a private site, then switched to another page and created a beautiful circle. We also drew solid circles of different colors and sizes. After the class, I couldn't stop by myself from continuing with some experimenting.

Both classes were very interesting and I enjoyed them very much.
Students were given very interesting experiences in a chemistry lesson – this experience served to increase students' interest in science.

I always believe that interest is the best teacher for children. After class, she kept talking to me about some small experiments and asked many questions, especially about the experiment involving the indicator phenolphthalein. I also encourage children to explore questions themselves. She attempted similar phenolphthalein tests using purple cabbage, alcohol, stone mortar and other liquids, and used homemade seasonings such as baking soda, white vinegar, sugar, and salt to test the acidity and alkalinity of various solutions.

From this aspect, this class was very successful. I hope that the school can continue to start from children's interests and introduce more knowledge through interesting experiments instead of only offering pure theoretical knowledge from books so that children can develop more.
A simple science lesson
Archimedes discovered the law of buoyancy more than 2,200 years ago, a discovery that greatly promoted human progress. However, this law can still be very confusing, preventing us from forming a basic concept in our minds. Yet, while an online physics class only lasted a little more than 30 minutes, the teacher used vivid videos to illustrate the basic principles of the law, and left the experiment of floating eggs for us to consolidate our understanding. I did the experiment and I got a bonus – I was so happy to see a salt-saturated solution!
A lesson in engineering
Construction is a topic that seems far away from us – we appreciate buildings and only consider their shapes. Unexpectedly, there is must to understand about its structure. During more than 30 minutes of an online class, the teacher chose three different pillars (cylinder column, three-corner prism, four corner prism) and asked us which column's bearing capacity was the strongest. Our answers were varied, but we learned that the cylinder is the best answer. We were surprised when we gave the opposite answer – no wonder columns have been cylinders since ancient times! A few small paper tubes actually tell a big story.
     "Not afraid of clouds, only at the top." In the middle school experience class, I learned about many seemingly complicated terms, and experienced their magical sides. In geography class, we not only learned about longitude and latitude, but also put forward our questions to the teacher freely. In the computer programming class, I felt the magic of codes – I could use these codes to draw my favourite pictures. The experience classes made me feel that the life in the middle school would not be boring – I could still learn happily. I am longing for the wonderful experience that will begin on September 1!