We in the SUIS Qingpu community congratulate our high school students for their continued successes in various competitions!
Recent academic competition success has served to proudly acknowledge that our high school students have outstanding scientific minds, as evidenced by outstanding results in a variety of science competitions: the American Invitational Mathematics Examination; the Canadian Chemistry Contest; the BIO-USACN Bio Olympiad; and the British Biology Olympiad. Our participating students symbolize the potential in every one of us when committed to a goal, and we are all very proud of them. We hope that these acknowledgements will spark a greater desire for each and every SUIS Qingpu student to eventually enter such competitions.
American Mathematics Competitions
American Invitational Mathematics Examination
Highest Distinction & Honor Roll of Distinction
 for scoring in the top 1%
G11 邬星昊 Stark Wu
CCC Canadian Chemistry Contest
G11 朱锦澄 Phoenix Zhu
(BIO-USACN)
BIO-USACN Bio Olympiad
G11 黄致源 Bill Huang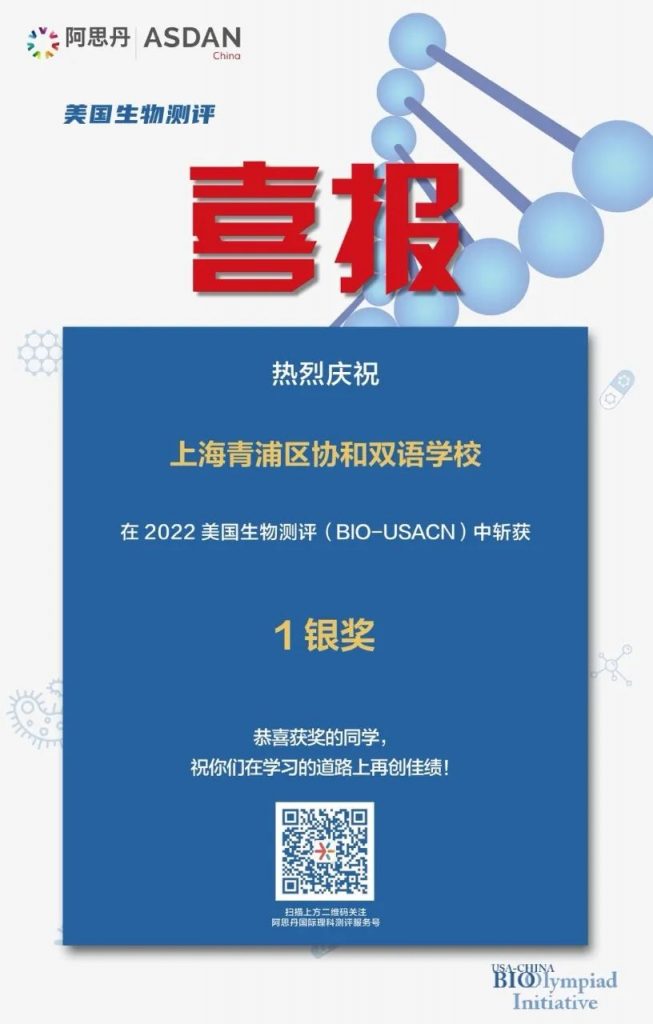 (BBO)
BBO British Biology Olympiad
G10 高赟琛 Peter Gao
G11 郑亦轩 Ethan Zheng
G10 张耀誉 Jack Zhang
G10 王政淇 Jack Wang
G11 周子涵 Angela Zhou
G11 宋唯祯 Chelsea Song
G11 周忻怡 Sunny Zhou
G10 崔艺杰 Abi Cui
G11 朱竟成 Luke Zhu
G11 曹馨浓 Nancy Cao
G10 陆嘉瑶 Shirley Lu
G11 黄峰麒 Elvis Wong
G11 徐欣宁 Heather Xu
As I prepared for the AMC12 and AIME competitions, I learned the importance of communication. Whenever I encounter a problem, I would ask a teacher for help, and we would then solve the problem together. In addition, I built up my resilience when facing challenging problems, I stopped giving up easily, I started working harder and I persevered. I became like water, always flowing forward and becoming more flexible to the challenges I faced.
—— G11 邬星昊 Stark Wu
It was my biology teacher Ms. Alan who inspired me to question more and to push myself. When I first entered school, Ms. Alan recommended that I participate in the BBO competition. Initially, I thought it would be a breeze as I had prepared for similar competitions before, but I found myself caught off guard by the changes to the examination questions in this year's competition. At first, I was hesitant, not knowing whether I'd achieve any medals at all.
Nevertheless, during the new school year, I continued to study hard regardless of thoughts of whether I'd do well or not. I seemed to be growing a new found passion. Although I didn't always understand everything at first, with time I began to understand more and more, and that drove me to commit more of my free time to prepare for the competition. It was a nice distraction from the pandemic that had isolated me from my friends at school. Here was a place where I felt encouraged by the teachers and my classmates; they were like the wind, pushing me forward for one final sprint. I was really happy to be a part of this competition and to have received encouragement from many of my teachers and classmates.
—— G11 黄致源 Bill Huang
I'm glad that I got a Silver Award in BBO. Thank you Ms. Alan for all you support!
—— G11 郑亦轩 Ethan Zheng
There is a saying in China: "Sharp tools make good work". As a student, I pictured myself as a tool slowly being sharpened by the acquisition of new knowledge which I continue to gain. Not to mention the support I also gain from my teachers. Upon the grinding stone of learning biology, my rough edges have eroded away and have been replaced with a diligent and in-depth understanding of my subject. I feel my mind has become a lot sharper. I will constantly strengthen my understanding of the world and I feel science will be my base.
—— G10 高赟琛 Peter Gao