As we embraced the gentle springtime and soaked in the warm sunlight, there was no better way to fully appreciate the beauty of this past April than by immersing ourselves in a good book. In early April, SUIS Qingpu's Primary School officially launched its Book Festival, an English reading event, and over the past month, a group of English teachers from our Primary School have been leading their students on a literary journey, encouraging them to explore the wonders of spring.
This reading event revolved around three key words: "cultivate," "clear," and "connect." It aimed to cultivate students' reading interests, clear any obstacles they might encounter during their reading journey, and connect their reading experiences to real-life contexts. To ignite students' interest in reading, the English department designed four main activities tailored to their age characteristics. These activities included a reading marathon for all students, a spelling bee for grades 1-3, a quiz show for grades 4 and 5, and a daily quiz held every day.
Throughout the month-long Book Festival, students were surrounded by reading-related elements on a daily basis. In the main lobby of campus, a massive Reading Marathon display wall showcased the cumulative class data of students' online reading through the RuiLeSheng platform. This inspiring display motivated many students, resulting in several classes achieving full participation in reading.
Along the school's corridors, students could engage with an open Daily Quiz where they could freely express their ideas and write them down. They engaged in friendly competition and thoroughly enjoyed the journey.
In each grade level, teachers organized spelling bee and quiz show activities. As early as mid-March, Chinese and foreign teachers began collaborating in research meetings to refine the details of and processes for these activities. Teachers in Grades 1-3 developed weekly word lists and utilized the highly regarded "Akeelah and the Bee" to ignite students' enthusiasm for spelling. As a result, every student eagerly participated and exuded growing confidence. Conversely, teachers in Grades 4 and 5 conducted warm-up exercises to introduce reading strategies to students. They guided students to read designated books and closely connected reading with critical thinking through quiz competitions.
The schedule for the Spelling Bee and Quiz Show consisted of two parts: preliminary selections and grade-level competitions. Chinese and foreign teachers in grades 1 to 3 conducted three rounds of progressively challenging selections within the classrooms. Throughout this process, students not only familiarized themselves with the rules of the Spelling Bee competition but also overcame their fear of memorizing words through continuous preparation. They actively memorized words, engaged in mutual discussions, and shared memorization strategies. For Grades 4 and 5, teachers organized classroom selections where students participated in various team activities, competing for advancement to the next round. Teachers encouraged all students to participate and answer questions, fostering a habit of deep thinking during the reading process.
The final round of the competition was intense and closely contested, showcasing the participants' thorough preparation and dedication. In the Spelling Bee competition, the atmosphere was electrifying, with each class's audience chanting their own slogans, cheering, and wholeheartedly supporting their representatives on stage. The young contestants approached the competition with confidence and determination, demonstrating their preparedness and living up to the high expectations. With composure and caution, the 45 class representatives underwent multiple rounds of fierce competition before reaching the final showdown. When only five participants remained on stage, the competition reached its peak intensity. Each child had one goal in mind: to become the champion, the "Amazing Bee"! Through rigorous selection and overcoming obstacles, the champion emerged, riding the waves of success. Thunderous applause filled the theater, celebrating the champion's victory and inspiring each and every participant.
The Quiz Show finals consisted of three rounds. The first round included basic and open questions, and the scores between each group were incredibly close, leading to intense competition and an enthusiastic audience. The revelation of each answer was met with thunderous applause. During the open question segment, students combined their knowledge from books, engaged in deep thinking, and collaborated within their groups. The sparks of intelligence and knowledge ignited on stage, showcasing the students' reasoning abilities, their ability to connect books with real-life situations, and their overall comprehensive skills. After two rounds of overtime, the competition reached the championship round. In this round, students expressed their own opinions, linking themselves, the text, and society. The supporting teams from each class cheered and encouraged their own class. On stage during this quiz show, students demonstrated their talents and intelligence. They honed their ability to think on their feet, deliver speeches, and work as a team.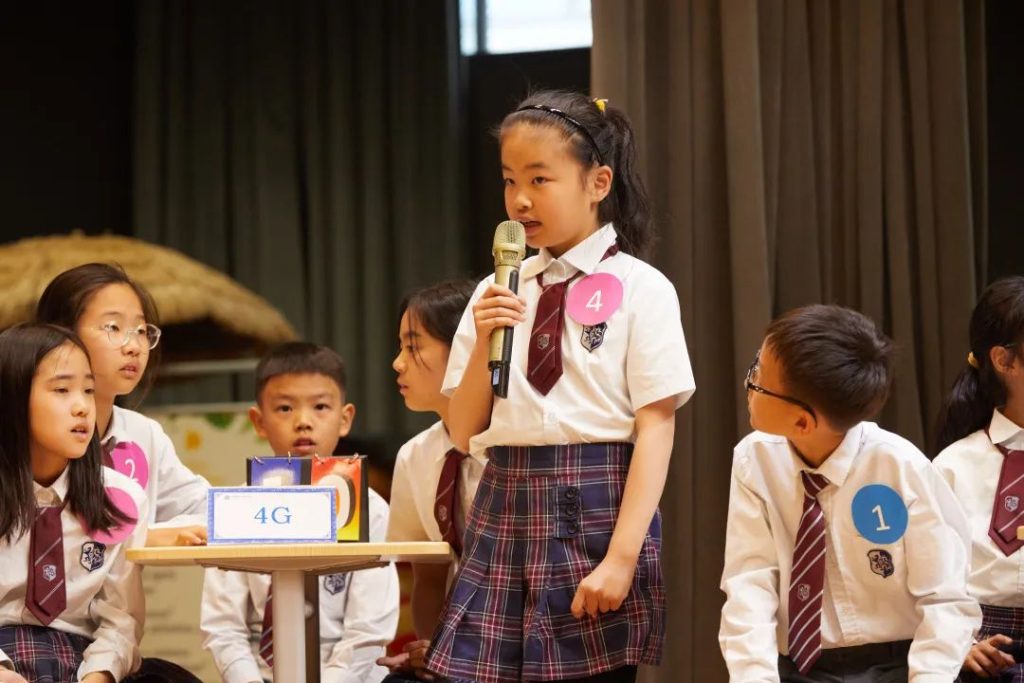 The month of the Book Festival came to a close with a grand celebration of character costumes and intense yet exciting competitions across different grade levels. However, the determination and enthusiasm instilled in the students continued to burn brightly, and the joy of reading became even more captivating with the support of the community. Although the event had ended, the students were already eager and prepared to give their all in the next competition.